Signs it might be time to replace your plumbing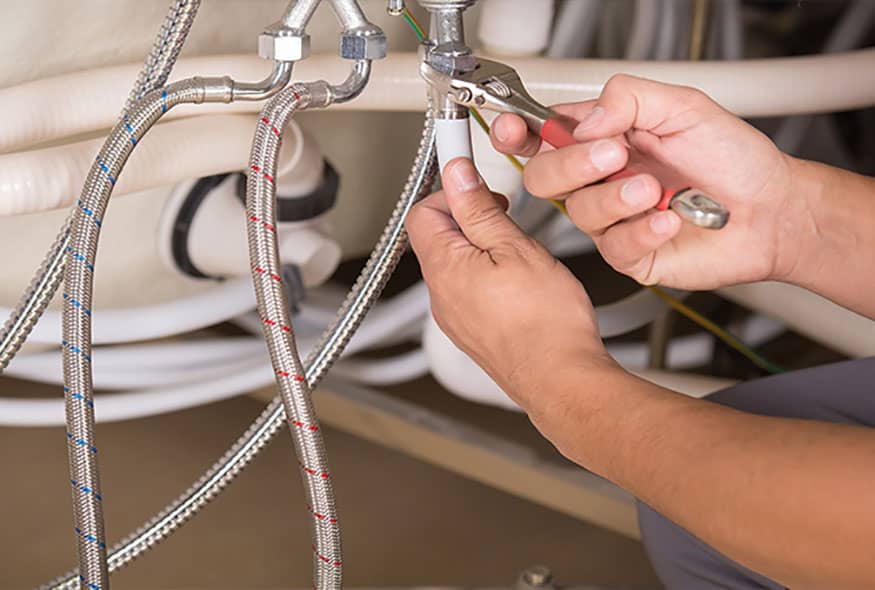 Like all other materials that make up a building, your plumbing and pipes will eventually deteriorate. Unfortunately, it's a big job to replace them, but a very important one—for many reasons, including the health and safety risks that come from corroding and decaying tubing.
Over a few decades, your plumbing system will rust and corrode, and eventually it'll start causing leaks or floods, which could be raw sewage.
That will obviously cause serious damage to your building, which will easily cost thousands of dollars in repairs. And if it's your home, you'll be counting both the financial and the sentimental loss.
These disasters are thankfully rare, because you'll usually get plenty of warning signs before they happen.
But if you take the time to properly assess your plumbing system, you'll be able to determine when it's time to replace it -and that could be sooner than you thought.
Types of piping and their lifespans
The different materials that plumbing systems can be created from have different lifespans. It's important to find out which type of plumbing you currently have in your building so you know how long you should expect it to last, and what problems are likely to arise when it's getting past its use-by date.
You might be able to find this information on the building inspection report you obtained when you bought the property, or you might be able to get it from your local council. If you don't have it, you can always hire a reputable plumber to inspect your property to let you know what the system is made up of, what maintenance it needs, and when you need to seriously consider replacing it.
The types of plumbing systems in your building include both supply pipes and drain lines. Supply pipes are typically made of metals, and drain lines are often made of plastic. Some of the materials they're made of can include:

Cast iron and brass
Which can have long lifespans of 80-100 years because they're durable, but they will eventually corrode and rust

Copper
Which can last as long as 70-80 years, because it resists corrosion, but it's more expensive than plastic and can be damaged more easily than stronger materials

Steel
Which lasts around 50 years as it's strong, but it will corrode

PVC (polyvinyl chloride)
Which can last between 25-40 years, with most sub-types holding strong against heat and chemicals

ABS (acrylonitrile-butadiene-styrene)
Which can last as long as PVC, but isn't typically used much in construction anymore because the joints are unreliable and can come loose.

PEX(cross-linked polyethylene):
a new pipe material used in residential construction, which is significantly more expensive than plastic or copper, but is easy to install
Supply pipes are constantly underpressure, and they are the most likely cause of water damage and leaks. Leaks and corrosion are the best indicators that your pipes need to be replaced, because even if your pipes are older than the general guide above, they might be well maintained and have a good deal of life left in them. If you have hard water (water with a high concentrations of minerals) in your area, your plumbing systems will likely need replacing sooner.
What to watch for when your plumbing is aging
Many parts of your property depend on plumbing. There are a few areas to check when you're trying to determine the health of your building's plumbing systems, including its:

Water plumbing
The hot and cold water pipes that give you your water supply, and their fittings

Sanitary plumbing
The pipes and fittings that collect and move sewage

Drainage
The pipes that collect storm water and waste

Mechanical systems
The water supply to heating and cooling or ventilation systems in the building, like air conditioners and gas hot water systems

Roofing systems
The pipes and that collect and move waterfrom roofing, including gutters, rainwater pipes, and downpipes
It's important—especially if your building is older than about 60 years—to check for signs of trouble in any of these areas. Signs of corrosion could be stains and discolouration, flaking, and dimpling.
You can also monitor the colour of your water. If you fill the bath or the basin when you haven't run the water for a while, that water will have been sitting in the pipes—and if it's coloured yellow or brown, it means there's rust inside your pipes.
But more often than not, the easiest way to spot plumbing problems is leaking. Even if you're only intermittently experiencing small leaks, and they're easily repaired, it could be an indication that the time to replace the building's entire plumbing system is drawing closer.
If you think it's getting close to time to replace your plumbing, be sure to ask for a professional opinion. A reliable plumber will help you get the best lifespan out of your systems, as well as help you keep the costs down when it really is time to replace them.
The best time to do your project
By far, the best time to consider replacing your building's plumbing is when you're renovating or fitting it out for a new tenancy. If you're already demolishing partitions and walls, the pipes are already exposed, and the plumber can easily get to them.
Even if you're renovating just one area at a time—like a kitchen or a bathroom—inspect the plumbing lines in that area, and take the opportunity to replace them when those walls and floors are exposed. That means you might only be adding a to the project's budget, instead of paying for demolition and rebuilding if the pipes were to cause a big emergency that was essential to repair.
If you're not renovating any time soon, there will still be pipes somewhere in the building that are exposed—in a utility or basement area, or other crawlspace.
Or you could at least consider inspecting and replacing those, and saving the concealed lines for a later time.
There are some other options to consider if you need to replace your pipes but can't afford a big project. Some alternative plastic products might be suitable: it could be possible to feed these types of piping into the walls, without demolishing large portions of them.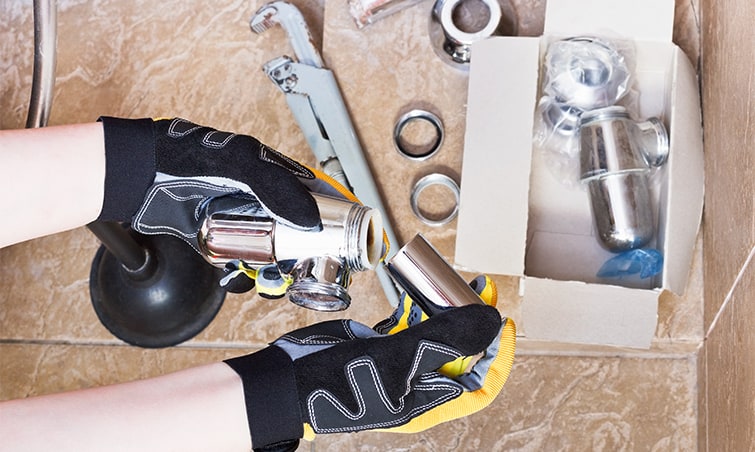 Weighing the costs and the risks
Replacing all the plumbing pipes in a home or commercial building is a big expense, and you certainly don't want to jump into that large a project before it's well and truly time. But there are also significant health and safety risks if you leave it too long to attend to your plumbing problems.
If your building is very old (built in the early 1900s), there could be lead pipes in it. These pipes need to be replaced immediately, because the compounds they release into drinking water are poisonous and cause serious health problems. Types of pipes commonly used throughout the 1970s–1990s  (like polybutylene) are also prone to breakage, because they corrode in the chlorine present in the water supply and cause breakage and leaks. Replacing these kinds of pipes is necessary, if not urgent.
Even when your plumbing problems aren't urgent, there's still a chance your system will need to be replaced in the near future—or undergo some maintenance services to prolong its lifespan and give you a little more time before the big job.